"Wonderful whisky!. This Aberlour is really a no-brainer buying option if you like sherried whiskies. Batches vary between them but they are all rather good."
91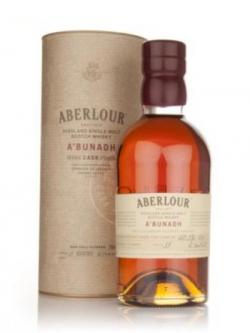 If you want intense, spicy Oloroso sherry, masses of character, and at natural cask strength, all for under £40, it has to be a'Bunadh. Batch 35 is a stinker!

Aberlour A'bunadh is a cask strength Speyside single malt whisky that is released by the distillery in small batches each with a slightly different profile but all on the sherry monsters style.

Really a must have and a whisky that is almost near to the almighty Macallan 10 years old Cask Strength.


This dram has a cooper-like color.

Nose (90): more than average. honey, nuts, citrus, floral, cocoa. Nice nose but it is slightly closed. A bit hard to nose it at 60% abv.

Palate (93): smooth, powerful, oily. honey, nuts, leather, citrus, spices, wood, raisins.

Finish (90): long. honey, nuts, citrus, spices, cinnamon.

So based on other whiskies I have already tasted I rate this Aberlour A'Bunadh Batch 35 with 91 points over 100.