Another dram of Maverick's Whisky Advent Calendar, this time a Dalmore 15 years old. A distillery famous because of their world-renowned Consternation Collections: yet another expensive collection of whiskies.
I have to say that I like the style of the Dalmore distillery but I really dislike their approach to whisky drinkers: making good stuff expensive and watering down the average stuff… #ripoff
Anyway, let's review it
"Excellent nose and a quite solid sherried whisky but I think it has more water than it should"
89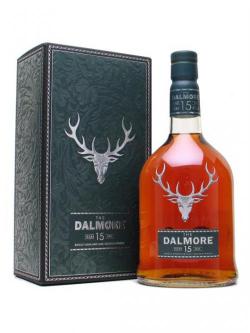 The new flagship expression from Dalmore that after fifteen years achieve the perfect balance on the combination of citrus orange, aromatic spices, nuttiness and dried fruits from European oak sherry casks.

But not just any sherry casks, but those that have been used to create some of the worlds most premium fortified wines - Amoroso, Apostoles and Matusalem sherries from Gonzalez - Byass, Spain.

Lovely Dalmore Single Malt whisky. If you like it, you should give a try to some of the Macallan whiskies like this 10 years old Sherry Oak.

This dram has a tawny-like color.

Nose (90): more than average. honey, citrus, tobacco, vanilla, spices, cinnamon, wood, flowers, nuts.

Palate (89): powerful, oily. honey, citrus, nuts, spices, vanilla, wood, cinnamon, cocoa.

Finish (89): longer than average. honey, cocoa, citrus.

So based on other whiskies I have already tasted I rate this Dalmore 15 Year Old Highland Single Malt Scotch Whisky with 89 points over 100.
Buy this bottle at
Save money when you buy Single Malt Whisky online. Check for the best prices from best online shops below:
It is a quite good whisky but I have the feeling that this was truly fantastic and it was watered down to make the expensive stuff looks better…