I should have posted all this stuff before Christmas because it was part of the Maverick's Advent Calendar, but… I just drank the stuff… and wrote the tasting notes… and forget about it. Now that I have completely tasted them all I have to say that it has been a fantastic experience to discover new whiskies and to revisit old classics… like this Glenfarclas 10yo.
"A delicious nose that suffers because of a watered down experience... This stuff bottled at 46% should be glorious!"
88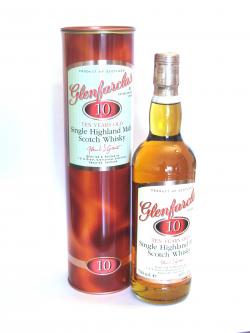 Once upon a time, there was a whisky distillery in the Speyside managed by the same family for generations. And still is, Glenfarclas is one of the last family distilleries out there, in a world of shark-like giant enterprises.

This Glenfarclas 10 years old is a straw-gold , delicately light, sweet and malty dram leaving a long slightly spicy finish. Always impeccably well-made, this is a whisky that always delivers in quality.

If you like the Macallan, this single malt is something you shouldn't miss at all.

This dram has a gold-like color.

Nose (90): more than average. honey, sherry, spices, citrus, cinnamon, wood, nuts, tobacco, flowers.

Palate (87): light, smooth. honey, citrus, wood, spices, cinnamon, nuts, leather.

Finish (87): no finish. honey, citrus, spices.

So based on other whiskies I have already tasted I rate this Glenfarclas 10 year with 88 points over 100.
Buy this bottle at
Save money when you buy Single Malt Whisky online. Check for the best prices from best online shops below:
I really love this way of tasting whisky because you are "forced" to taste whiskies that you won't be tasting on your own… I really prefer to drink a Glenfarclas 25 years old than the 10 years old… so I ended up never revisiting the low part of the range :)
You can still order your own Maverick's #whiskyadvent calendar at Master of Malt.