Master of Malt has given me the chance of tasting the oldest Glenfarclas whisky to date, an outstanding 58 years old single cask cask strength single malt whisky choosen by an elitist tasting panel: Serge Valentin, key member of the internationally renowned Malt Maniacs, Master of Malt's Sales Director Ben, Michal Kowalski of investment company Wealth Solutions and George Grant, of Glenfarclas.
The cask is a Spanish sherry cask filled on 20 November 1953. The angels have been greedy – after 58 years of slow maturation in Glenfarclas' traditional Highland Dunnage warehouses, the 1953 cask yielded just 400 bottles, that's around 280 litres of a cask of between 500 to 600 litres, so around half the cask has been lost to the angels. :)
How old is it? This whisky was distilled in 1953. For me the date is unfathomable.
My parents wasn't even born in 1953.
My country was just starting to recover from a civil war that set it to ruins and the whole world was healing from the 2nd World War. And the grandfather of George Grant was distilling this whisky as his father and his grandfather before him had done for years in a small distillery on the North of Scotland.
I have to say I have been waiting for days to taste this one. And today, my first holiday day is the chosen date!
"Maybe the best Glenfarclas I have had? An awesome single malt whisky as every Glenfarclas whiskies are."
93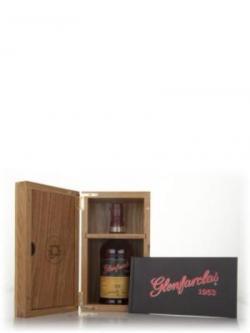 The oldest released Glenfarclas single malt whisky bottled to date.

This stunning single malt has been chosen by a panel of experts, between whom you can find Serge Valentin and George Grant, from the oldest casks that distillery had available by Wealth Solutions in collaboration with Master of Malt.

Only 400 bottles at cask strength has result after 58 years of ageing in a Spanish sherry oak cask.

This dram has a tawny-like color.

Nose (93): more than average. candies, eucalyptus, wood, spices, candies, flowers, cinnamon. Like a marvelous wooden box full of violets candies! Really complex and evolving.

Palate (92): powerful, oily. honey, nuts, wood, spices, figs, flowers, cinnamon, cocoa. So intense whisky! It is almost smoke on the palate.

Finish (93): long. honey, wood, flowers, citrus.

So based on other whiskies I have already tasted I rate this Glenfarclas 1953 - 58 Years Old with 93 points over 100.
Buy this bottle at
Save money when you buy Single Malt Whisky online. Check for the best prices from best online shops below:
The oldest and most expensive bottle of my collection, even if this one has never been available for sale. I like this whisky, not that I see myself drinking this single malt but I like it.
I plan doing a vertical tasting of Glenfarclas in the following weeks and this whisky will have an honor place there for sure.