When I was visiting London for The Whisky Exchange Whisky Show I tasted this whisky with Surrinder Kumar.
And I tasted it after 40 whiskies, Talisker 35 years old, Carsebridge 45 years old and some of the best Karuizawa I have tasted! Imagine how good it has to be to stand after all that.
"Awesome! Delicious Amrut whisky. Maybe one of the best I have had"
91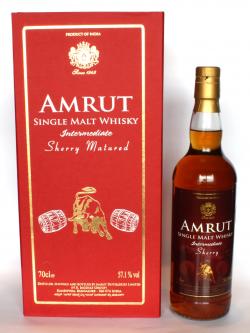 Amrut Intermediate Sherry Matured is uniquely different from the usual sherry finished or sherry matured whiskies. It is the first "intermediate sherry matured" whisky – with the malt aged in sherry casks between periods maturing in either bourbon or virgin casks at Amrut's Bangalore distillery.

This dram has a cooper-like color.

Nose (90): more than average. honey, malt, citrus, nuts, vanilla.

Palate (91): powerful, oily. honey, malt, citrus, nuts, cocoa, vanilla.

Finish (91): longer than average. honey, nuts, vanilla.

So based on other whiskies I have already tasted I rate this Amrut Intermediate Sherry Matured with 91 points over 100.
Buy this bottle at
Save money when you buy Single Malt Whisky online. Check for the best prices from best online shops below: