When I think of peat almost automatically I think of Islay whiskies ( and if you don't you should read this article! ) but there is lots of peat outside that little island. Benriach, that now owns too Glendronach and Glenglassaugh distilleries, has had a stormy past with periods of time closed until it was rescued and reopened in 2004.
Since that year we have seen lots of different aged and finished Benriach whiskies, in particular the whisky we review today, Arumaticus, is part of a series of 12 years old peated whiskies aged in different cask types: Importanticus Fumosus, Aromaticus Fumosus and Heredotus.
Benriach Arumaticus has been aged in Dark rum casks for twelve years.
"I wasn't aware that this one was peated. Good one but I don't think the finish really adds anything interesting"
90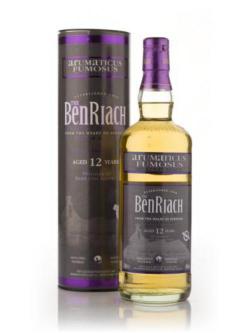 As the name suggests, this is a peated Benriach that's been finished in a rum cask.


This dram has a white wine-like color.

Nose (91): more than average. peat, honey, citrus, earth, fruits.

Palate (89): powerful, oily. peat, honey, earth, citrus, fruits, coffee.

Finish (90): longer than average. peat, earth, honey.

So based on other whiskies I have already tasted I rate this BenRiach Arumaticus 12 Year Old (Dark Rum Finish) with 90 points over 100.