I tasted this Single Malt whisky from Bunnahabhain The Whisky Show 2012 in London just after tasting a nice 18 years old sherry monster and close before tasting the amazing new Bunnahabhain 40 years old.
"Marvelous! One of the best Bunnahabhain single malts I have had"
92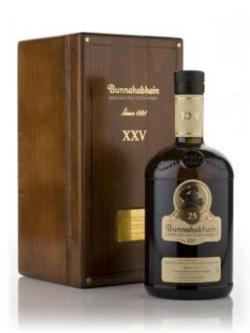 Bunnahabhain 25 year old is delivered in the smoked oak glass bottle but its labelling is on aged parchment and it finds its bed in an Alder wooden box lined with Hessian and closed with solid brass fittings.

This dram has a gold-like color.

Nose (92): more than average. honey, smoke, citrus, floral, spices, vanilla.

Palate (92): powerful, oily. honey, peat, fruity, citrus, salt, wood, cinnamon.

Finish (92): longer than average. honey, salt, citrus.

So based on other whiskies I have already tasted I rate this Bunnahabhain 25 Year Old with 92 points over 100.
Buy this bottle at
Save money when you buy Single Malt Whisky online. Check for the best prices from best online shops below: