You all know that I love Japanese whiskies so after a slightly disappointing Isawa whisky I tasted Akashi, another less known Japanese whisky. This one looks like specially created for the European market.
The White Oak whisky distillery is located in the city of Akashi in Hy?go Prefecture, west of K?be, facing the Seto Inland Sea. The distillery was founded by Eigashima Shuz? in 1888 to produce sake. Eigashima Shuz? obtained a license to manufacture whisky in 1919, but it was when the company moved to their current facilities in 1984 that White Oak Distillery was born.
White Oak's whisky stills are only in operation for one month every year and so their production quantity each year is very small. This Akashi is on the other hand a blended whisky created using the single malt from Akashi distillery, unspecified malts from other places AND… you won't guess it… rum!. The "grain" whisky used to create this blended whisky comes from molasses.
Well… tasting time.
"Not sure what to do with this whisky... It has lots of spices and a decent sweetness but I didn't enjoy it"
85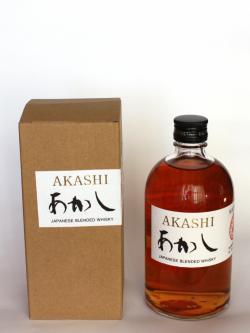 A lesser known whisky outside of the local Japanese market, this version of Akashi is specially produced for the European market using a mixture of Japanese and foreign made malt and grain whisky to produce a reasonably priced every day blend.


This dram has a amber-like color.

Nose (82): more than average. honey, spices, wasabi, pepper, citrus, vanilla.

Palate (86): powerful, oily. honey, wood, spices, cinnamon, vanilla, citrus.

Finish (86): longer than average. honey, spices, cinnamon.

So based on other whiskies I have already tasted I rate this Akashi White Oak Blended Whisky with 85 points over 100.
Buy this bottle at
Save money when you buy Blended Whisky online. Check for the best prices from best online shops below:
Maybe it is not whisky but all I can say that for this price it is a quite nice blended whisky. Highly recommended.