I tasted this single grain whisky with Fred Laing at The Whisky Show 2012 in London and so transcendental the experience was that I had to buy a bottle for myself.
If you have never tasted any Clan Denny Single grain you really should. It is still fairly priced and shows awesome complexity of very old whisky.
"Mindblowing! Best whisky so far that I have tasted at TWE Whisky Show. Just ordered one"
93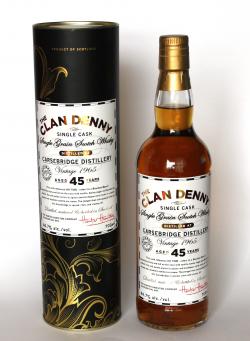 70cl / 44.7% / Clan Denny - A 1965 vintage grain whisky bottled by the grain lovers at Clan Denny. This matured for 45 years and lasted longer than the Carsebridge distillery, which was one of the many distilleries mothballed in 1983 and was dismantled in the early 1990s.

This dram has a gold-like color.

Nose (92): strong. honey, corn, vanilla, wood, flowers, parma violets.

Palate (93): dry, powerful. honey, flowers, candies, vanilla, wood.

Finish (93): longer than average. honey, corn, flowers.

So based on other whiskies I have already tasted I rate this Carsebridge 1965 / 45 Year Old / Clan Denny Single Grain Scotch Whisky with 93 points over 100.