87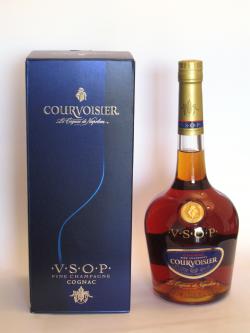 This cognac is made from wines from two regions in the Champagne region of France (grande champagne and petite champagne)- thus, the "fine champagne" on the bottle) and is aged eight to twelve years. It is gold-caramel colored, and when nosed has hints of oak, cinnamon, and an alcohol ester that can water the eyes. Drink it in and you will taste oak and then a nutty finish. It is a little hot going down, and if swished about the mouth will prick the tongue


This dram has a cooper-like color.

Nose (90): strong. sweet, grapes, floral, citrus, wood.

Palate (87): smooth, powerful. grapes, wood, spices, apples biscuits.

Finish (85): longer than average. citrus, grapes, spices.

So based on other whiskies I have already tasted I rate this Courvoisier VSOP Cognac with 87 points over 100.
Buy this bottle at
Save money when you buy Brandy online. Check for the best prices from best online shops below: