I have seen this bottle of Dewar's Signature a few times and I have been one or two times close to buy it… but it is so expensive. Does it worth the money? Is it a good whisky? Let's see…
"It is as awesome as light and subtle. Really, I am not fan of blended whiskies but this one is incredible and loyal to the style"
90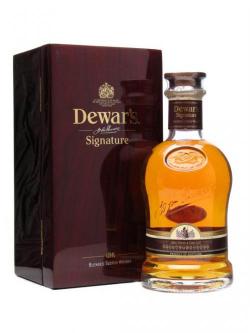 75cl / 43% - A deluxe blend launched to compete with the likes of Johnnie Walker Blue Label. This has proven extremely popular, and received 95 points from Jim Murray in the Whisky Bible. Picked up the top prize in its category at the World Whisky Awards 2010.


This dram has a amber-like color.

Nose (90): more than average. honey, toffee, vanilla, citrus, spices, candies. Respect! There is some very old grain whisky in this bottle.

Palate (90): light, smooth. toffee, citrus, vanilla, spices, wood, cloves, white chocolate.

Finish (90): longer than average. toffee, vanilla.

So based on other whiskies I have already tasted I rate this Dewar's Signature Blended Scotch Whisky with 90 points over 100.
Buy this bottle at
Save money when you buy Blended Whisky online. Check for the best prices from best online shops below:
Miguel says…
Well, so after the tasting note… this whisky is fantastic. And I am a person that dislike blends because they are quite light. But this whisky is really tasty and although delicate it has a great personality.
Unfortunately the price is in the line of Johnnie Walker Blue Label and Chivas 25 years old. It is a luxury item and you know that you are paying for one.