Paris Saint-Lazare is one of the six large terminus train stations of Paris. It is the second busiest in Paris, behind the Gare du Nord.
The picture
Claude Monet (14 November 1840 – 5 December 1926) was a founder of French impressionist painting, and the most consistent and prolific practitioner of the movement's philosophy of expressing one's perceptions before nature, especially as applied to plein-air landscape painting.
In 1877, painter Claude Monet rented a studio near the Gare Saint Lazare.
That same year he exhibited seven paintings of the railway station in an impressionist painting exhibition. He completed 11 paintings of this subject.
The dram: Adrbeg Supernova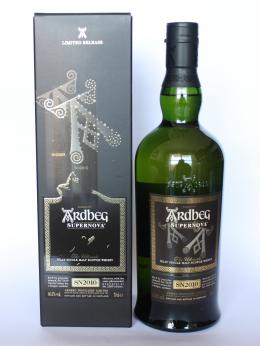 Argh! See that smoke! See those trains! Doesn't it smells like Ardbeg?!
Quite possibly the most exciting new whisky release for 2010!
This is the brand new Supernova, stronger, more pungent in flavour, and more earthy than last year's Supernova – which Jim Murray rated with 97 points, heralding it as the "Scotch Whisky of the Year".
[buy-button permalink="ardbeg-supernova-sn2010"]