I am a big fan of Glendronach whiskies, I love their 15 years old whisky and their single casks, and I really love the fact they are not assholes rising and rising the price of their good stuff ( although the single casks are expensive ).
So today I review a Glendronach 14 years old finished in Virgin Oak. What the hell is Virgin oak? Let me explain it briefly… whisky is aged usually in oak casks, those casks that has contained before other liquids like wine, bourbon or cognacs, are usually charred in the inside to help them impart more flavour to the spirit… but virgin oak casks are just that casks that have never contained anything.
Enough smalltalk… the whisky
"Damn fantastic whisky! I love their sherried expressions but this one, being completely different, is even nicer!"
90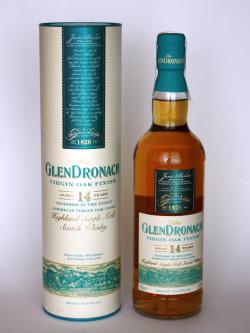 70cl / 46% / Distillery Bottling - A special edition Glendronach, matured initially in re-charred puncheons befroe finishing ina small batch of American virgin oak casks, which have imparted abundant toasty oak, coconut and tropical fruit aromas and flavours to the final blend.

This dram has a fino-like color.

Nose (90): more than average. honey, malt, citrus, vanilla, spices, flowers.

Palate (90): powerful, oily. honey, spices, citrus, vanilla, pepper, liquorice, wood.

Finish (90): longer than average. honey, wood, vanilla.

So based on other whiskies I have already tasted I rate this Glendronach 14 Year Old / Virgin Oak Finish Speyside Whisky with 90 points over 100.

Miguel says
Of the Glendronach Finished range that I tasted this one is the cheapest and my favorite :)