Look mum! Look! I have discovered how to buy Glenfiddich online! Now damn serious, if you plan to collect whisky, do your homework and find for the best prices at A Wardrobe of Whisky… you would have saved lots of money or you would be collecting LEGO… much like me.
This chap is collecting Glenfiddich whiskies and the photo has 12 bottles of which 11 are clearly readable. I personally think it is a damn pity and a waste of time… don't collect Glenfiddich… it is such a nice whisky that it is a pity that you don't drink it.
Another post for the Fucking thief. Stealing other persons' whisky so you can know about it. Is this your photo? Write me to fthief@awardrobeofwhisky.com and I will pay you… homage… and share with A Wardrobe of Whisky's readers your experience on the tasting. Slainte!
Let's review them. From left to right…
Glenfiddich 14 years old Rich Oak
Glenfiddich 15 years old
Glenfiddich 21 years old
Glenfiddich Snow Phoenix
Glenfiddich 12 years old
Glenfiddich 15 years old Distillery Edition
I haven't tasted this one. I dunno if it is the same whisky than the 15 years old Cask Strength.

"Wonderful nose altogether with most delicate floral notes"
90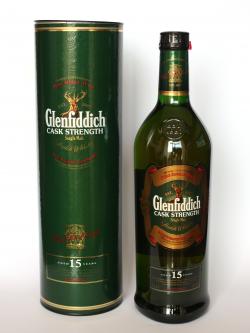 The Glenfiddich 15 year old cask strength is creamy smooth whisky with floral and spicy, notes of black pepper and gentle luscious fruit. Bottled at 51%abv.

This dram has a gold-like color.

Nose (90): strong. floral, honey, wood, spices, a little cocoa, apples.

Palate (91): smooth, powerful, oily. peaches, floral, honey, wood, spices, cocoa, liquorice.

Finish (90): long. floral, honey, cocoa, cinnamon.

So based on other whiskies I have already tasted I rate this Glenfiddich 15 year Cask Strength with 90 points over 100.
Buy this bottle at
Save money when you buy Single Malt Whisky online. Check for the best prices from best online shops below:



Glenfiddich 18 years old
Glenfiddich 12 years old Caoran Reserve
Glenfiddich 19 years old Age of Discoveries
Glenfiddich 18 years old Ancient Reserve
It is the same whisky that the previous 18 years old, just that this is the old bottle.
Glenfiddich 12 years old Toasted Oak
Ummm… I didn't taste this one.
Glenfiddich 15 years old Solera Reserve
Pretty much like the first 15yo on this review, it is the old bottle of Glenfiddich 15yo.
Miguel says…
As I said… it is a pity that the bottles are closed and that he doesn't own the 30 years old. About the whiskies it is so damn hard to choose one… I think bang for the buck I would go for the 15 years old Distillery Reserve or the Snow Phoenix ( with the original RRP ).