"Not as sweet as you would imagine."
86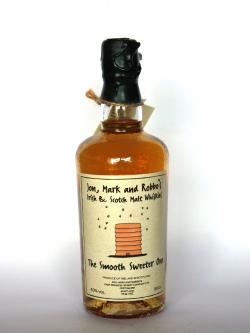 The smooth, sweeter one is a vatting of both Irish and Scotch whisky. The majority of this is Cooley's single malt and the remainder is from Bunnahabhain. This is a delightful, easy-drinking whisky from Jon, Mark and Robbo.


This dram has a fino-like color.

Nose (85): average. sweet, fruits, green apples, spices.

Palate (86): light, smooth. sweet, peat, citrus, apples, wine, spices.

Finish (86): average. honey, wood, citrus.

So based on other whiskies I have already tasted I rate this Jon, Mark and Robbos the smooth sweeter one with 86 points over 100.