"I prefer the old Laphroaig 15 years old. Where did my peat go man?"
89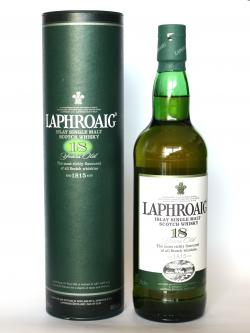 The new Laphroaig 18yo is a replacement for the 15 year-old (Prince Chuck's favourite whisky, lest we forget, and it'll be sorely missed when it's gone). This is a stronger, altogether gutsier affair at 48%. A category winner at the World Whisky Awards 2010.


This dram has a gold-like color.

Nose (88): more than average. peat, honey, citrus, iodine, wood, floral. I had to read twice the bottle to be sure it was a Laphroaig. Where did the seaweed peat go?

Palate (90): powerful, oily. peat, salt, iodine, apples, spices, pepper, coffee.

Finish (88): longer than average. peat, salt, floral, iodine.

So based on other whiskies I have already tasted I rate this Laphroaig 18 year with 89 points over 100.