"Really delicate nose with an outstanding taste and a long a delicious finish. If only this whisky were done for humans being like you and me..."
91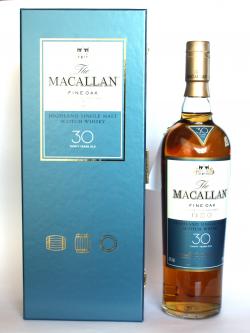 Thirty year old Macallan is a rare and rarefied whisky. The time spent maturing in carefully selected European and American oak casks which have previously held Sherry or Bourbon creates a rich, intense liquid, with a deep colour achieved wholly naturally through the interaction between spirit and wood.


This dram has a amber-like color.

Nose (91): strong. candies, floral, honey, wood, a little cocoa.

Palate (92): smooth, oily. peaches, dried fruits, wood, candies, smoke, floral, cocoa.

Finish (91): very long. dried fruits, raisins, wood, honey, floral.

So based on other whiskies I have already tasted I rate this Macallan 30 year Fine Oak with 91 points over 100.