"Rather good whisky that really shows its age. Just a bit more sweet and it would have been a mindblowing dram."
90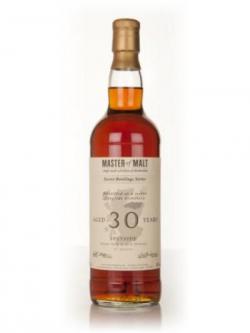 The 4th edition of Master of Malt stunning 30 year old single malt from a secret Speyside distillery. After a slightly lighter 3rd edition, this is a return to sherried form, boasting a rich, unctuous sherry flavour, and an intensely dark hue.


This dram has a mahogany-like color.

Nose (90): strong. nuts, dates, figs, leather, wood, citrus.

Palate (90): oily. honey, tobacco, leather, nuts, floral, citrus.

Finish (90): long. nuts, leather, citrus.

So based on other whiskies I have already tasted I rate this Master of Malt 30 year Speyside 4th edition with 90 points over 100.