Jim Murray named Old Pulteney the best whisky in the world a few years ago… that was when I was young and I believed that the poor guy even care about tasting his whiskies. I bought a Old Pulteney 21yo because everyone was mad about (buying) it. So it came the day when I open the bottle and tasted it… it was much like when Dorothy meets the Great Oz.
But forget it… this Old Pulteney 30 years old is made with the same stuff dreams are created.
"Respect! Maybe the best Old Pulteney whisky I have had. This could really have been Best Whisky of the World"
92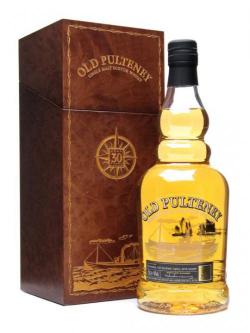 70cl / 44% / Distillery Bottling - A much-anticipated addition to the Old Pulteney range, this 30yo has had extremely favourable reviews and, thankfully, this looks like living up to expectations and justifying the pricetag.


This dram has a fino-like color.

Nose (91): more than average. candies, flowers, citrus, vanilla, spices. Respect!

Palate (93): smooth, oily. candies, spices, citrus, flowers, vanilla, wood, cinnamon, pears.

Finish (92): longer than average. candies, spices, vanilla.

So based on other whiskies I have already tasted I rate this Old Pulteney 30 Year Old Highland Single Malt Scotch Whisky with 92 points over 100.

Well, it is expensive but it is also damn good. I would buy it if I have the money… and I can't say the same about their 21 years old.