After several weeks wanting to taste it I finally have the chance.
Rumbullion is a rum liqueur made by Professor Cornelius Ampleforth and bottled and sold by the chaps at Master of Malt.
So taking as a base a good dark rum they have added orange peels, clove, vanilla and cinnamon to obtain this drink.
Excited? You are right. This drink is a cracker. So good in fact that I have done myself the experiment with two bottles of Laphroaig 10 years old Cask Strength. I will write about this crazy experiment of my later.
"Perhaps this is not the best rum I have had but it is quite an experience. Really tasty and delightful. I like it a lot."
87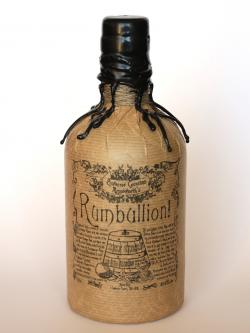 A sure-fire hit from Professor Cornelius Ampleforth, Rumbullion! is a cockle-warming spiced concoction, based on the kind of rich, full-bodied rums the seafaring fraternity would have enjoyed centuries ago.

At the core of this fabulous winter warmer lies a blend of the very finest high proof Caribbean rum, to which was added creamy Madagascan vanilla and a generous helping of zesty orange rind. A secret recipe was followed, and the Professor finished his hearty tipple with a handful of cinnamon and cloves and just a hint of cardamom.


This dram has a old oak-like color.

Nose (88): strong. sweet, vanilla, brown sugar, lemon, cinnamon.

Palate (86): smooth, powerful, oily. sweet, cardamon, vanilla, cloves, ginger, cinnamon, burnt sugar.

Finish (86): average. cloves, cinnamon, brown sugar, lemon.

So based on other whiskies I have already tasted I rate this Rumbullion with 87 points over 100.