"Rather good with a good amount of peat and honey and that floral theme playing along all the way."
90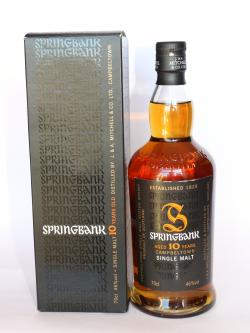 Blended from a mixture of Bourbon and sherry casks, the light colour of this malt belies the richness of its character. The nose has a wide range of aromas, from citrus fruits to pears and a hint of peat, while the palate shows touches of smoke, vanilla essence, nutmeg, cinnamon and the salty tang characteristic of the distillery.


This dram has a gold-like color.

Nose (90): strong. peat, honey, citrus, floral.

Palate (90): smooth, oily, powerful. peat, floral, honey, malt, citrus.

Finish (90): long. peat, wood, floral.

So based on other whiskies I have already tasted I rate this Springbank 10 year with 90 points over 100.
Buy this bottle at
Save money when you buy Single Malt Whisky online. Check for the best prices from best online shops below: