Tasting today a very old Strathclyde from Hunter Laing, I have tender love to such old grain whiskies… when they are young usually grain whiskies tastes of nothing at best but put them a few decades on a oak cask and the result is usually surpraising.
"Quite an experience. I think it is my first sherried grain whisky... delightfully sherried if you ask me"
92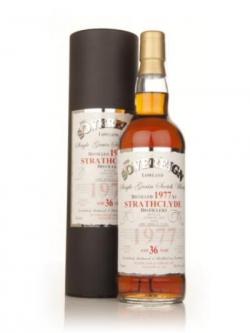 This dram has a mahogany-like color.

Nose (91): more than average. honey, varnish, spices, citrus, cinnamon, candies, raisins.

Palate (93): powerful, oily. honey, sulphur, raisins, wood, citrus, cinnamon, salt, spices, candies.

Finish (92): longer than average. honey, raisins, sulphur, citrus.

So based on other whiskies I have already tasted I rate this Strathclyde 36 Year Old 1977 (cask 9912) - The Sovereign (Hunter Laing) with 92 points over 100.

Miguel says…
It is always a pleasure to taste this kind of whiskies.