The Great Wave off Kanagawa is a woodblock print by the Japanese artist Hokusai
The picture
An example of ukiyo-e art, it was published sometime between 1830 and 1833, during the Edo Period, as the first in Hokusai's series Thirty-six Views of Mount Fuji, and is his most famous work.
This particular woodblock is one of the most recognized works of Japanese art in the world.
It depicts an enormous wave threatening boats near the Japanese prefecture of Kanagawa. While sometimes assumed to be a tsunami, the wave is, as the picture's title notes, more likely to be a large okinami lit. "wave of the open sea."
As in all the prints in the series, it depicts the area around Mount Fuji under particular conditions, and the mountain itself appears in the background.
The dram: Nikka Yoichi 10 years old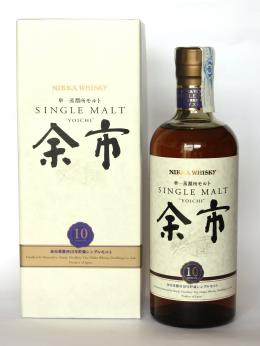 A Nikka Yoichi 10 years old fits best. Yoichi is a peated sweet and spicy Japanese whisky. This bold and distinctive single malt whisky was distilled and matured at the Yoichi distillery in Hokkaido, birthplace of Nikka Whisky. The Yoichi distillery continues to adhere to techniques such as the use of coal-fired pot stills, and otherwise remains loyal to the whisky-making traditions dating back to its foundation.
[buy-button permalink="nikka-single-malt-yoichi-10-year"]