"It is hard to find an Oloroso cask aged whisky that let the character of Macallan shine in such a way. Absolutely delicious."
89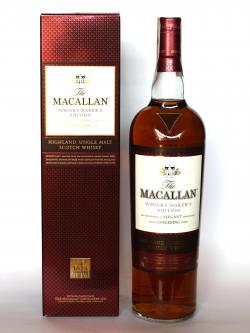 According to The Macallan, "Containing rare whisky distilled from barley grown on The Macallan's Estate which brings a velvety mouthfeel, Whisky Maker's Edition recognises the skill and dedication of The Macallan's Whisky Maker, Bob Dalgarno. Bottled at Bob's preferred strength of 42.8%, this has an intensity and robustness of flavor."

Less obviously sweet on the nose than Select Oak, this Edition offers a nose of toffee, raisins, figs and honey. The palate is rounded, full and spicy, with nutmeg, leather, hazelnuts and chocolate orange. Lengthy in the finish, with nutty, dark chocolate, a whiff of smoke and mild oak.

It is one of the nicest sherried Macallan that allow the true characteristics of the Macallan spirit to shine. Lovely one. Part of the 1824 Collection that was originally created as a travel retail exclusive.

If you like this whisky you should try some of the Sherry Oak Macallans.


This dram has a amber-like color.

Nose (88): more than average. honey, toffee, floral, citrus, nuts, cocoa.

Palate (90): smooth, powerful, oily. honey, wood, nuts, leather, tobacco, nuts. Wonderful! Oloroso cask! Like I love it!

Finish (90): longer than average. honey, nuts, leather, oranges.

So based on other whiskies I have already tasted I rate this Macallan The 1824 Collection Whisky Maker's Edition with 89 points over 100.

Don't miss the interview with Bob Dalgarno, whisky maker at the Macallan and responsible of the successful 1824 Collection.