"A very promising nose but a weaker taste and finish don't keep it to the level. A good rum nonetheless."
86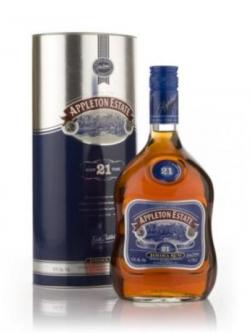 A very rare blend of some of Appleton Estate's finest aged rums, Appleton Estate 21 Year Old Jamaica Rum is a smooth sipping rum that will leave a lasting impression on even the most discerning of palates.

The rums in Appleton Estate 21 Year Old, each aged a minimum of 21 years, bring their own special characteristics together into a truly glorious harmony


This dram has a mahogany-like color.

Nose (88): more than average. sugar cane, brown sugar, cinnamon, floral.

Palate (84): light, smooth. molasses, sugar cane, citrus, wood, fruits, vanilla.

Finish (85): average. molasses, brown sugar, honey.

So based on other whiskies I have already tasted I rate this Appleton Estate 21 year with 86 points over 100.
Buy this bottle at
Save money when you buy Rum online. Check for the best prices from best online shops below: