I am a huge fan of Ardbeg since the moment I tasted for first time their 10 years old whisky. I love so much the peat, the honey and the motor aromas that I always have two bottles of Ardbeg around: one of 10 years old and one of Uigeidail when I need a bit more of peat-power.
So there I was at home when the whisky fairy knocked on my door and let a big envelop from Glenmorangie. Umm, could it be… Woof! Woof!
Right! This is Ardbog! The latest whisky from my beloved Ardbeg to celebrate with all their fans worldwide the Ardbog Day on June, 1st 2013. With the whisky comes also a coin that features JackieShortie on one side and a boat with many rowers on the other side. A delightful allegory of the hordes of fans that will travel to Islay to enjoy Feis Ile festival.
So, the whisky.

This Ardbog is a single malt whisky bottled at cask strength ( right? ) at 52.1% ABV and it is a blend of 10 years old Manzanilla cask aged Ardbeg with a 10 years old ex-bourbon cask Ardbeg whisky.
Manzanilla is a kind of sherry wine created exclusively at Sanlucar de Barrameda, Cadiz and it is very similar to Fino ( like Tio Pepe ). The main difference is that Manzanilla is slightly lighter and more salty than Fino sherries.
It is a slightly different concept to Ardbeg Galileo that was finished in marsala wine casks while Ardbog is completely aged in the sherry cask.
"Fantastic! Can I say that this Ardbeg is even better than Galileo? This have all the delicious aroma of Ardbeg at cask strength with a wonderful touch of sweet almonds"
92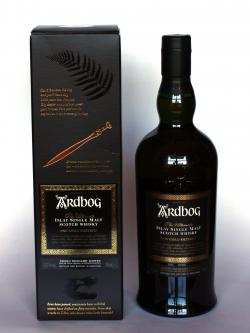 Launched to celebrate Ardbeg Day on June, 1st 2013.

It is a cask strength Ardbeg aged in Manzanilla Sherry Cask for ten years and blended with 10 years old Ardbeg aged in Bourbon casks. The result is a wonderful dram that will delight Ardbeg fans worldwide.

This dram has a cooper-like color.

Nose (92): more than average. peat, honey, citrus, wood, almonds, cinnamon, vanilla, coffee. Quite fantastic Ardbeg. Lovely nose.

Palate (93): powerful, oily. peat, honey, earth, citrus, spices, wood, almonds.

Finish (91): longer than average. peat, honey, earth, coffee.

So based on other whiskies I have already tasted I rate this Ardbeg Ardbog with 92 points over 100.

Miguel says…
First of all a big Woof! Woof!, I mean Thank you, to Ardbeg Distillery for this sample, and second a bigger even Woof! to them for creating a fantastic whisky.
To be clear and sincere, I were going to buy it no matter how good it was but now that I know how fantastic it is I just can't wait for June, 1st.