"A bit light on the nose but then the taste converts it into a awesome whisky."
89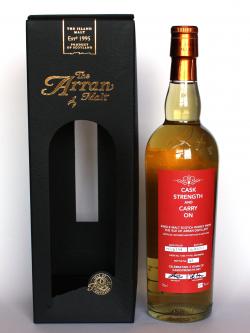 The first ever whisky to be bottled by a blog! This was bottled in May 2011 to mark the 3rd birthday of the renowned Caskstrength.net. Caskstrength.net was founded in early 2008 by two former rival A&R men, who joined forces to share their passion for whisky with the world. Since its inception the blog has grown massively, as the two now regularly travel around the world to write about whisky


This dram has a fino-like color.

Nose (88): more than average. floral, honey, vanilla, lemon, malt, wood.

Palate (90): smooth, oily, powerful. fruitsm floral, candies, vanilla, a littlewood, peaches, pears.

Finish (89): very long. candies, floral, citrus.

So based on other whiskies I have already tasted I rate this Arran Caskstrength and Carry On with 89 points over 100.