It is always nice to taste a Bruichladdich whisky. So you can understand that when I was at The Whisky Show 2013 I assaulted their stand and drank all their stuff ( a bit of each of course ).
Bruichladdich has started a new campaign to reclaim the "terroir" in whisky. They are creating lots of whiskies with barley from local farms or in this case with barley only from Scotland ( Did you know that Scotch can be done with barley from anywhere in the world?! ).
So, the whisky…
"A decent Bruichladdich whisky but on the other hand pretty uninteresting"
87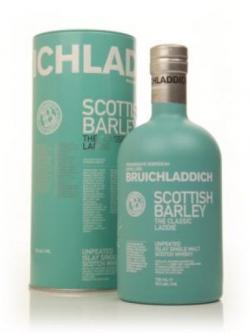 This dram has a gold-like color.

Nose (87): more than average. honey, citrus, vanilla.

Palate (87): powerful, oily. honey, citrus, vanilla, spices, wood.

Finish (87): longer than average. honey, vanilla.

So based on other whiskies I have already tasted I rate this Bruichladdich Scottish Barley - The Classic Laddie with 87 points over 100.
Buy this bottle at
Save money when you buy Single Malt Whisky online. Check for the best prices from best online shops below:
As I said I love Bruichladdich whiskies, but this one is mean, completely unpeated and showing signs of being bottled just too young. Bad whisky! Bad! Go to your cask and sleep three more years! On the other hand I tasted this Islay Farm and it was a hell more interesting