I usually love the subtle peatiness of Laddie whiskies and some of their unpeated drams are quite enjoyable. As you know Bruichladdich was reopened a bit after the new millenium and it has been under a new "regime" for a few years.
"It is too young for my taste... I miss the good old days of a bit peated Laddies... the good old times..."
87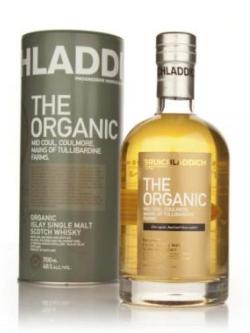 This dram has a gold-like color.

Nose (88): more than average. honey, citrus, floral, spices, vanilla, apricot.

Palate (87): powerful, oily. honey, floral, citrus, fruits, vanilla, salt.

Finish (87): longer than average. honey, floral.

So based on other whiskies I have already tasted I rate this Bruichladdich The Organic Multi Vintage with 87 points over 100.

Miguel says…
This is one of my biggest fears with NAS whiskies… that under the excuse of picking the very best casks without caring about age you usually end up buying whisky that would be better inside of a cask for a few years more. This Bruichladdie whisky will be awesome in ten years more but right now is too young for my taste.