I was talking a few days ago at Facebook about how stupid whisky prices are nowadays and I was particularly talking about Octomore. When I saw the Octomore 10 years old Limited Release for sale I were going to buy it but as soon as I saw it for £150 I decided to put it on a hold.
Paying £150 for a 10 years old is excessive by any means and well… all the point of this blog is to buy good whisky for better prices. So buying the Octomore ( I still think the same ) was a bad deal. Fortunately ( or unfortunately ) the whisky sold out in a few hours and now a few months later it is for same for twice its price: £300. Crazy.
What I was talking about?! A yes… I tasted the new Octomore 06.1 at The Whisky Show 2013. And I also discovered there that Octomore 06.2 and Octomore 06.3 are going to be duty-free exclusives.
"Fantastic! A real cracking pure peat pleasure"
92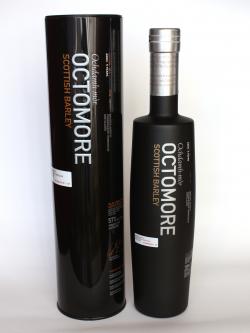 This dram has a gold-like color.

Nose (91): strong. peat, earth, honey, vanilla, citrus.

Palate (92): powerful, oily. peat, honey, citrus, vanilla, earth, wood, spices.

Finish (92): longer than average. peat, honey, spices.

So based on other whiskies I have already tasted I rate this Bruichladdich Octomore 06.1 5 Year Old Scottish Barley with 92 points over 100.
Buy this bottle at
Save money when you buy Single Malt Whisky online. Check for the best prices from best online shops below:
Is this whisky good enough to pay £100? I don't really think so, but it is a quite nice whisky. If you really don't mind the price tag, go ahead. You won't be disappointed.
What do you think about its price? Did you buy it?