After a first fantastic release of their Rare Casks series, Abbey Whiskies asked on their blog about which one should be their next whisky on the range. There were two options: Bruichladdich or a peated Bunnahabhain. Apart of a few laddie fans the consensus was clear for a peated Bunna.
And so they bottled it. A 23 years old cask strength Bunnahabhain at a whopping 44% ABV. Just a few years shorts of not being legally whisky anymore :)
Bunnahabhain whiskies are somewhat of a hidden jewel to discover between the peat giants of Islay, but once you get a dram of their delicious 25 years old, you fall in true love for ever.
So the tasting…

Bunnahabhain 23 years old The Rare Casks
"Awesome nose! Really, one of the best Bunnahabhain noses that I remember. The whisky itselft is quite good just a bit of dryness towards the end of the palate. Quite interesting dram nonetheless"
90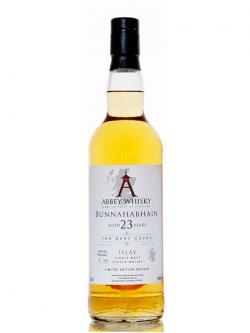 The 2nd release in 'The Rare Casks' series by Abbey Whisky has arrived and it's only right that we follow up the success of the 1st release with something exceptional and equally special.

Casks from Islay have been like gold dust of late but we've managed to get our hands on a lovely smooth, peated Bunnahabhain from the magical Isle.

Distilled in 1989, this special malt was aged in a refill bourbon barrel for 23 years before being bottled at natural cask strength of 44% vol. As with the 1st release only 96 bottles have been filled and made available for this limited edition release.

This dram has a white wine-like color.

Nose (91): more than average. honey, fruits, fresh apples, vanilla, citrus, smoke. More fruity and fresh than the 25 years old distillery bottling. Still as delicious!

Palate (89): powerful, oily. honey, citrus, floral, peat, vanilla, wood, cinnamon.

Finish (89): longer than average. honey, wood, spices.

So based on other whiskies I have already tasted I rate this Bunnahabhain 23 years old The Rare Casks with 90 points over 100.

A huge thanks to Abbey Whisky for this official sample.