A few weeks ago Abbey Whisky, a family run business founded in 2008 specialises in exclusive, rare and old whiskies, sent me a sample of Caperdonich 17 years old of their Rare Casks series.
This Caperdonich was distilled in 1995, just a few years was mothballed in 2002 by Pernod Ricard close after being sold by Seagram to them one year before. Will we see once again Caperdonich distilling whisky? Johannes from Malt Madness explain why it isn't likely to happen:
"Pernod Ricard closed the distillery one year later in 2002, together with three of its sister distilleries; Alt A' Bhainne, Braeval (Braes of Glenlivet) and Benriach. At the end of the decennium Caperdonich was the only distillery from this group that hadn't been reopened yet. The longer a whisky distillery remains inactive, the higher the costs of making it operational again. This sad fact makes it
ever more unlikely that the Caperdonich distillery will ever be reopened again.

Another reason that the resurrection of Caperdonich is unlikely, is the reputation of the whisky that is distilled there. Like the original name 'Glen Grant Number Two' and the famous 'whisky pipe' that ran between Capedonich and Glen Grant suggest, Caperdonich was intended more like a production expansion for Glen Grant, and not so much as a brand new malt whisky distillery."
Anyway, while there are stills, there is hope! Enough history for today, let's taste this whisky.
"Nice Caperdonidh whisky with lots of spices notes. Looks older than 17 years old and it is really generous at almost 58% abv. A sensible dram"
90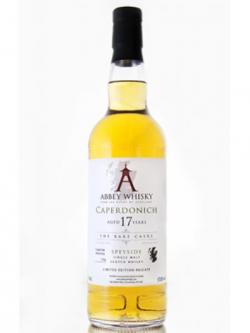 The 1st release in 'The Rare Casks' series by Abbey Whisky is this magnificent Caperdonich 17 year old single malt Scotch whisky.

This limited edition release was distilled in 1995 and left to rest for 17 years before being bottled in 2012 with only 96 bottles filled.


This dram has a gold-like color.

Nose (89): more than average. honey, spices, citrus, pears, vanilla, floral.

Palate (90): powerful, oily. honey, spices, pepper, vanilla, wood, liquorice, citrus.

Finish (90): longer than average. honey, spices, wood.

So based on other whiskies I have already tasted I rate this Caperdonich 17 Year Old / The Rare Casks with 90 points over 100.