Bushmills claims to have the oldest distilling license in the world and this whiskey pays homage to that fact. And well, I have said so many times that I don't enjoy Irish whiskey that most of you should already know… there are of course exceptions, notable exceptions, but this Bushmills is on that category.
"I was expecting something better for such a great event as the 400th anniversary... but well... lovers of Irish whiskey will enjoy it"
88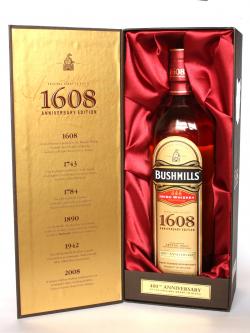 A special bottling to commemorate the 400th anniversary of the license to distil aqua vitae in Antrim originally granted in 1608 to Sir Thomas Phillips. This has already won 'Best Irish Blended Whiskey (No Age Statement)' at the World Whiskies Awards 2008.


This dram has a amber-like color.

Nose (90): more than average. honey, citrus, vanilla, fruits, peaches, raisins. Irish whiskey with a twist. Really nice.

Palate (86): smooth, powerful. honey, citrus, floral, wood, spices.

Finish (87): longer than average. honey, spices, floral.

So based on other whiskies I have already tasted I rate this Bushmills 1608 400th anniversary with 88 points over 100.

Well, it is not expensive and it isn't a bad dram. If you enjoy Irish whiskey this could be a great option.