If you are a whisky anorak you may recall an infamous Loch Dhu, a black whisky that rapidly turned into a collector's item despite its bad reputation. This Cu Dhub is a attempt to repeat the "successful formula" of a widely known Speyside distillery.
"It has a familiar nose I can't spot right now. Not peated, nor smoked ( oh, man! You would have nailed it with a hyper-peated black whisky ). It has a character more similar to rum than to whisky"
80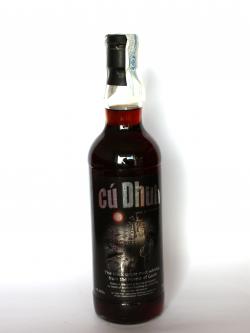 A black whisky, produced to replace the infamous but much loved Loch Dhu and now developing a bit of a following. Cu Dhub means Black Dog in Gaelic.


This dram has a treacle-like color.

Nose (80): average. sweet, cinnamon, citrus, burn sugar, vanilla. It smells like a old cheap rum.

Palate (81): dry, oily. burnt sugar, spices, pepper, citrus. Tastes a bit spicy, almost hot.

Finish (80): average. burnt sugar, spices, citrus.

So based on other whiskies I have already tasted I rate this Cś Dhub with 80 points over 100.

I still have the feeling that if they would have done this with an Islay whisky ( like Laphroaig ) it would have been a real crack! Dark, smoky bottled pleasure. This one is a whisky to forget about on the other hand.