"Epic whisky! The sweetest raisins that I have ever had. The best Highland Park whisky I have tried"
93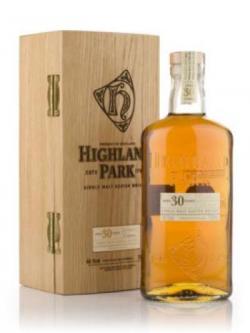 A stunning Highland Park 30 years old bottled at high strength, over 48% abv.

This single malt whisky from this Orkney distillery has a good amount of sherry casks used on it. It portraits also the awesome heather theme present on most Highland Park scotches.

Definitively a whisky to drink if you can afford it. If that's not the situation, you would do well checking the 25 years old


This dram has a tawny-like color.

Nose (94): more than average. honey, raisins, floral, spices, cinnamon. Lovely! Sweet raisins.

Palate (93): smooth, powerful. honey, leather, nuts, floral, spices, wood, cocoa. Sherry epitome!

Finish (93): longer than average. honey, nuts, floral.

So based on other whiskies I have already tasted I rate this Highland Park 30 year with 93 points over 100.