Fettercairn has gone recently on a repacking of their range dropping the "Old" word. This Fettercairn Fior is a non age statement ( NAS ) whisky that it is released on a really cool bottle and with a strength of 42% ABV.
"A bit light of nose but not bad at all. Undecided about if this one is peated or have a ton of wood in it. Interesting malt"
87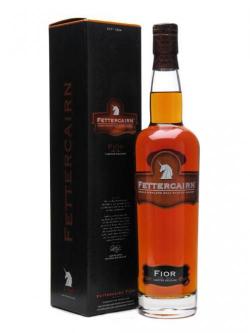 70cl / 42% / Distillery Bottling - Fior means pure or true in Gaelic, and this no-age-statement bottling launched in summer 2010 is something of a rebirth for the much-maligned Fettercairn distillery. Described by the producers as tasting of dark chocolate, coffee beans and peat smoke, with nutmeg, mint, citrus fruits and truffle. The finish is said to be of sherry trifle, marzipan and pineapple.


This dram has a cooper-like color.

Nose (85): average. honey, citrus, spices, ginger, cinnamon, vanilla.

Palate (88): powerful, oily. honey, citrus, peat, spices, raisins, pepper.

Finish (87): longer than average. honey, peat.

So based on other whiskies I have already tasted I rate this Fettercairn Fior Highland Single Malt Scotch Whisky with 87 points over 100.
Buy this bottle at
Save money when you buy Single Malt Whisky online. Check for the best prices from best online shops below:
Not sure what I would make if it. Personally for me it is a not buy. It isn't good enough