"Awesome bourbon with a more cereal nose than its partners: William Larue and Thomas Handy."
91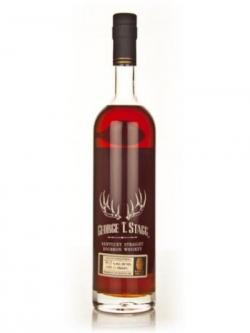 George T Stagg is an utterly superb high strength bourbon.

Weighing in at a potent 71.3%. Every year this is a critically acclaimed whiskey from Buffalo Trace's Antique Collection. Roughly 15 years old.

If you like this Kentucky straight bourbon, you should check the other two bourbons of the Antique Collection: Thomas H Handy and William Larue Weller. Mindblowing stuff if you ask my opinion.


This dram has a cooper-like color.

Nose (91): more than average. corn, biscuits, honey, wood, spices, cinnamon, herbs.

Palate (91): smooth, powerful, oily. corn, floral, honey, spices, cinnamon, wood, pepper, vanilla.

Finish (90): longer than average. corn, spices, honey, wood.

So based on other whiskies I have already tasted I rate this George T Stagg 2011 Release with 91 points over 100.