Wealth Solutions has raised the bar one more time. If the Glenfarclas 1953 was fantastic and the Karuizawa 1964 was something worth of trying once in a lifetime, this group of Polish investors with a special passion for fine spirits has bottled something unique.
With the help of Gordon & MacPhail they have source the cask #1369 of a Glen Grant whisky that has been there for a whopping sixty six years. So… Are you interested in knowing how good this is whisky?

"Powerful. Unfathomably old. A torrent of old oak, candies and flowers on a sixty six years old malt. This whisky really puts others in perspective"
92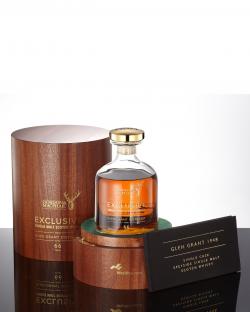 In May 2014, Wealth Solutions, thanks to its partnership with Gordon & MacPhail, was proud to present to the public one of the world's oldest whisky.

This single malt whisky was produced in 1948 within the walls of the Glen Grant distillery then matured in a sherry cask no 1369 and bottled after 66 years by Gordon & MacPhail.

This dram has a cooper-like color.

Nose (91): more than average. wood, candies, spices, eucalyptus, vanilla, citrus, cinnamon, cocoa, flowers.

Palate (93): powerful, oily. wood, honey, citrus, spices, candies, pepper, liquorice, cocoa, vanilla.

Finish (93): longer than average. spices, wood, cinnamon.

So based on other whiskies I have already tasted I rate this Glen Grant 1948 66 years old cask #1369 with 92 points over 100.

Now that I am reading the description of the whisky I have realized that it was aged in a sherry cask but the whisky isn't strongly sherried ( like the Karuizawa was ), it is a wonderful experience much in the line of a very old ex-bourbon cask whiskies with just a tiny note of cocoa.
A magnifique experience that unfortunately is only reachable for very few ones for a undisclosed price. #jealous