"Quite an experience. Not sure what kind of sherry had the cask before because it was left just the slightlest aromas of nuts and powder. Boom Glen Grant!"
90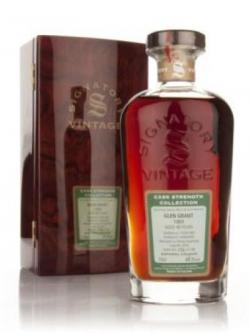 A beautifully dark whisky from Glen Grant bottled by Signatory.

This scotch whisky was distilled on the 17th March 1969 and matured for 40 years in a single cask, a fresh Oloroso sherry hogshead number 2016.

This single malt whisky was bottled at cask strength on the 14th September 2009. There are just 188 bottles of this!

A nice example of nice sulphured whisky. Excellent Glen Grant.


This dram has a old oak-like color.

Nose (89): average. candies, spices, nuts, pepper, citrus, floral.

Palate (90): smooth, oily. sweet, citrus, wood, spices, powder, floral.

Finish (90): longer than average. sweet, spices, citrus.

So based on other whiskies I have already tasted I rate this Glen Grant 40 year 1969 Cask Strength Collection with 90 points over 100.