"A real crack! Really a phoenix raising from the snows."
90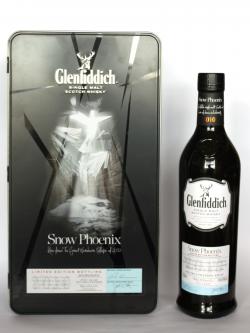 On the evening of 7th January, in the most remote part of the distillery estate, a number of warehouse roofs dramatically collapsed under the weight, leaving the maturing oak casks exposed to the night sky. In wintery conditions and temperatures of -19?C, distillery staff swung into action, working round the clock to clear the snow.

Glenfiddich Malt Master, Brian Kinsman, commented: "Standing amongst the wreckage and exposed casks, we were working out our next steps and assessing the situation. I was thinking about how the casks, some of which were very old, contained some beautiful whisky and it occurred to me that they would create a fantastic non-aged single malt. A limited edition bottling from the whiskies in the damaged warehouses would be an appropriate way of celebrating the pioneering spirit of the distillery team at this moment in Glenfiddich's history. "


This dram has a fino-like color.

Nose (89): more than average. malt, vanilla, spices, wood, peaches, floral.

Palate (91): smooth, oily, powerful. fruits, malt, wood, spices, honey, vanilla, floral, chocolate.

Finish (90): long. fruits, peaches, wood, honey, floral.

So based on other whiskies I have already tasted I rate this Glenfiddich Snow Phoenix with 90 points over 100.