Day 4 of Maverick Drinks' Whisky Advent Calendar. A quite special Jura. This Jura 16 years old is a fantastic experience. The first time I tasted it I really disliked it but someone told me that I was wrong that it was a good whisky, so I ordered a sample from Master of Malt and gave it a new try, and found a completely different whisky. The closest thing to a Macallan that you can get from outside the Highlands.
"I have an old bottle of the Jura 16 years old and it is way better than this, pretty big changes between batches. It still have that lovely tobacco leaves aroma that only old Macallan used to have"
89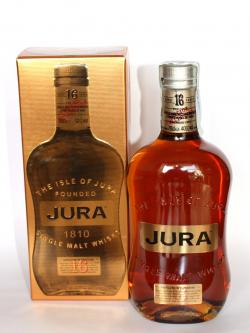 'With the smoothness of the 10 year-old allied to extra complexity from more ageing, this is a winner. 'A delicious and sophisticated dram with impressive depth and almost perfect weight.' Jim Murray

This dram has a amber-like color.

Nose (88): more than average. honey, citrus, sherry, chocolate, raisins, spices.

Palate (89): powerful, oily. honey, tobacco, vanilla, citrus, spices, chocolate, rubber.

Finish (89): longer than average. honey, citrus,tobacco leaves.

So based on other whiskies I have already tasted I rate this Isle of Jura 16 year with 89 points over 100.
Buy this bottle at
Save money when you buy Single Malt Whisky online. Check for the best prices from best online shops below:
You can order your own #whiskyadvent calendar at Master of Malt. Hurry up! Or you will have to drink it all on the same day :)