"A-m-a-z-i-n-g taste. I know, i know... overrated, very expensive, stupid presentation box... but it is a delicious whisky."
92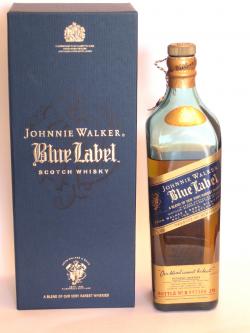 Johnnie Walker Blue Label is their rarest blend.

Blue Label is created from the rarest and most expensive whiskies in the world, this iconoclastic scotch whisky has the authentic character and flavour of a traditional nineteenth century blend, just like those that John Walker and his son Alexander developed for their most valued customers.

At the heart of Blue Label is Royal Lochnagar, a rare malt distilled near Balmoral, the Queen's holiday home. Around 15 other mature and precious whiskies are added to balance Blue Label perfectly - 'a blend that cannot be beat', (Alexander Walker, 1888).

Don't get me wrong. It is a great whisky, but for that price you can buy better single malt whiskies.

This dram has a amber-like color.

Nose (91): strong. peaches, wood, honey, vanilla, smoke, citrus, floral.

Palate (95): smooth, oily, powerful. peaches, apples, wood, honey, vanilla, smoke, orange zest, chocolate.

Finish (90): long. fruity, honey, cinnamon, a little peat.

So based on other whiskies I have already tasted I rate this Johnnie Walker's Blue Label with 92 points over 100.
Buy this bottle at
Save money when you buy Blended Whisky online. Check for the best prices from best online shops below: