India set two mankind milestones for sex and whisky: Kamasutra and Amrut.
The book about sex and love
The Kama Sutra is an ancient Indian Hindu text widely considered to be the standard work on human sexual behavior in Sanskrit literature written by V?tsy?yana. A portion of the work consists of practical advice on sexual intercourse. It is largely in prose, with many inserted anustubh poetry verses. "K?ma" which is one of the three goals of Hindu life, means sensual or sexual pleasure, and "s?tra" literally means a thread or line that holds things together, and more metaphorically refers to an aphorism (or line, rule, formula), or a collection of such aphorisms in the form of a manual.
Contrary to popular perception, especially in the western world; Kama sutra is not an exclusive sex manual, it presents itself as a guide to a virtuous and gracious living that discusses the nature of love, family life and other aspects pertaining to pleasure oriented faculties of human life.
The Kama Sutra is the oldest and most notable of a group of texts known generically as Kama Shastra. Traditionally, the first transmission of Kama Shastra or "Discipline of Kama" is attributed to Nandi the sacred bull, Shiva's doorkeeper, who was moved to sacred utterance by overhearing the lovemaking of the god and his wife Parvati and later recorded his utterances for the benefit of mankind.
The dram: Amrut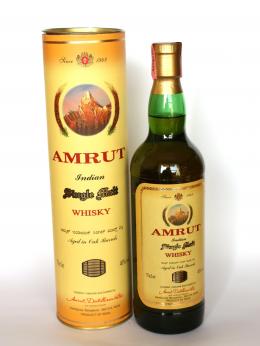 According to Indian Mythology, when Gods and Rakshasas – the demons – churned the oceans using the mountain Meru as churner, a golden pot sprang out containing the Elixir of Life. hat was called the "Amrut".
Amrut Single Malt Whisky is a product of many years research to produce whiskies matching world standards.
This whisky is made from selected Indian barley grown at the feet of the Himalayas, nurtured by the waters flowing there and cultivated by old and traditional agricultural practices.
It is carefully mashed and distilled in small batches to preserve the natural aroma and matured in oak barrels in a unique tropical condition,at an altitude of 3,000 feet above sea level at Bangalore, the garden city of India.To retain the natural characteristics of this oak aged Indian Malt Whisky, we do not chill filter, some haze may therefore be noticed in the product.
[buy-button permalink="amrut"]