There is a supermarket brand in Spain that is breaking the market by selling quality products at almost half the price of their competition: Mercadona.
Their technique consists on stocking only one store brand and just another brand at best for most products they have on the store so they have from bread, yogurts, ham, beer and of course scotch at prices that make other supermarkets looks like Harrods!
Well, to the point, they sold a brand of "scotch" whisky called John Cor, yep, the name of the monk who is know for the first written record of distillation of aqua vitae. The bottle of this whisky doesn't say scotch at all now that I am reading at home and in fact it isn't a scotch one as it is bottled at Spain… is it Scotch? Is is spanish? Fifty fifty. It is misleading at least because if it is spanish whisky all the label is written in english that not many people is able to understand here in Spain beyond the usual english words as "Sol", "Paella" and "Playa"
Probably the malt whisky inside this come from Scotland and the rest of the grain whisky is from Jerez which has a strong tradition of distilling alcohol for brandies.
Well, what all the buzz is about? Well, Mercadona sells the 70cl bottle of this John Cor whisky for 4.85€, that are about £3.90. Yep! That's less than four pounds for a full bottle of blended whisky.
You should know the fact that Spanish Taxes on alcohol are 2.7€ on a full bottle so the price of the whisky and the glass bottle is 2€ in fact. Can you get anything cheaper?
I have been told lots of time that it was a good whisky, that it was awesome for the price and all that bullshit. So I thought about tasting it, anyway I pay up to £30 for a 3cl sample… I can afford 4€ for a full bottle…
So here is the tasting note. Zero expectations before tasting it.
"Not that I was expecting a lot from this John Cor, but I expected a bit more. It is great for cleaning glass by the way"
78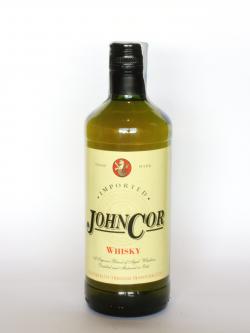 Scotch blended whisky bottled in Spain.

John Cor is the name of the friar who recorded the first known written reference to a batch of Scotch Whisky on June 1, 1494.

"To Friar John Cor, by order of the King, to make aqua vitae VIII bolls of malt." — Exchequer Rolls 1494–95, Vol x, p. 487.

This dram has a fino-like color.

Nose (79): average. toffee, vanilla, floral, alcohol. Lots of toffee and not much more here. Smells almost like caramel vodka.

Palate (78): light. toffee, floral, citrus, alcohol.

Finish (76): average. citrus, honey.

So based on other whiskies I have already tasted I rate this John Cor with 78 points over 100.

Maybe with ice and cola it is awesome, but doing it in the same way I do with the rest of whiskies John Cor is a mediocre blended whisky at best… unless you are really budget-constrained you should be drinking something better… afford yourself a luxury whisky such as DYC instead and do a favor to your liver.
Don't worry for the rest of the bottle! It works great for cleaning glasses.