"Good rum with taste of old rum but that on the other hand has some sharpness on taste like if it has been blended with young rums."
83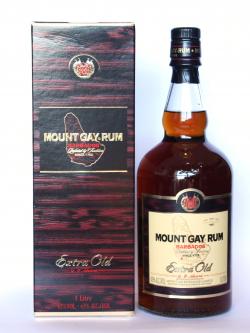 It is a masterful blend of the finest, aged spirits, selected attentively amongst the oldest reserves with a resulting maturity of 17 years. The force of its oak aromas is softened by its sweet, fruity notes, reminiscent of pastry and bananas. Easily identified thanks to its traditional label and its malt whisky type bottle, its magnificent luminosity, dark amber colour and extreme clarity are the key qualities of this rum. The result of many years of meticulous development, EXTRA OLD has received several Grand Gold Medals and Trophies from the highly respected International Institute for Quality competition.


This dram has a cooper-like color.

Nose (82): average. brown sugar, sugar cane, floral, a little cinnamon.

Palate (84): smooth, powerful. brown sugar, citrus, spices, wood, sugar cane.

Finish (82): average. brown sugar, caramel, sugar cane.

So based on other whiskies I have already tasted I rate this Mount Gay Rum Extra Old with 83 points over 100.
Buy this bottle at
Save money when you buy Rum online. Check for the best prices from best online shops below: