Woman figure at window is one of the earliest works of the famous Spanish painter.
The Picture

The model was Ana Maria, Dali's younger sister and only sibling. For a long time Dali and Ana Maria were extremely close, especially after their mother's death, when Ana Maria took on the role of mother to the demanding Dali. Ana Maria was the only female model Dali used until Gala replaced her in 1929.
In 1949, Ana Maria wrote an autobiography that portrayed a very different view of Dali to the one he had carefully constructed in his autobiographies; this led to the collapse of their relationship. In revenge for Ana Maria's disloyalty, Dali painted another version of this Figure at a Window in 1954 and called it Young Virgin Autosodomized by her Own Chastity.
As with Seated Girl Seen from the Rear, we can not see the face of the girl and so our focus is drawn to the view that she is looking at from her window. The view is the bay of Cadaques, a Spanish seaside town where the Dalis spent their summers. The predominant colors of light blues and lavenders give the painting a peaceful feel that is unusual in much of Dali's work.
The dram: Laphroaig Quarter Cask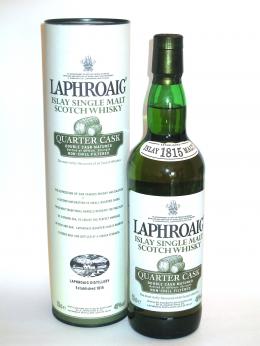 Can you smell the seaweed? Don't you see the waves dying against the rocks? Smell, Look. It's smells of Laphroaig.
A vibrant young Laphroaig whose maturation has been speeded up by ageing in Quarter Casks. This shows soft sweetness and a velvety feel when first tasted, then the intense peatiness so unique to Laphroaig comes bursting through. A really terrific whisky and great value.
[buy-button permalink="laphroaig-quarter-cask"]