Woo, I need to force myself into actually writting the reviews because I write the tasting notes and just let them sit there for myself… such selfishness…
Well, today I am here with a review of Old Pulteney Navigator, a duty-free whisky from this highland distillery that was the crafter of Old Pulteney 21 years old, the best whisky in the world… or so Jim Murray says…
Personally I don't enjoy much the profile of Old Pulteney whiskies. They are nice but they don't hit me on the soft spot as well as other drams: it is not enough peated, not enough salty, nor enough sherried. But anyway… let's review it with that in mind.
"Not my kind of whisky... but it has a taste that remind me of a smoky & salty Balvenie 12 years old. Interesting"
87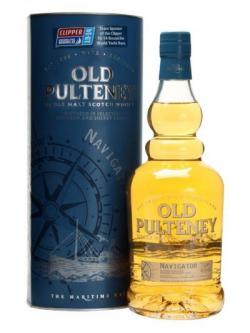 Released in 2013 to coincide with their sponsoring of a yacht in the Clipper Round the World Race, Old Pulteney Navigator was created to reflect the distillery's rich maritime heritage. It is matured in ex American bourbon and ex Spanish Sherry casks and bottled at 46%.

This dram has a fino-like color.

Nose (86): more than average. honey, citrus, wood, spices, cinnamon, salt, smoke.

Palate (88): powerful, oily. honey, wood, vanilla, spices, toffee, cinnamon, smoke, salt.

Finish (88): longer than average. honey, wood, spices.

So based on other whiskies I have already tasted I rate this Old Pulteney Navigator Highland Single Malt Scotch Whisky with 87 points over 100.
Buy this bottle at
Save money when you buy Single Malt Whisky online. Check for the best prices from best online shops below:
As i said it is a decent whisky but not my kind of whisky. I would rather put my money somewhere else…