"Not like a Gin at all. It is floral and sweet with big malty notes."
84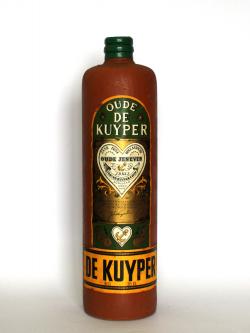 There are two types of Dutch gin: Oude or "old" relates to the old recipe. Jonge
(young or new recipe) Jenever is contains only up to 5% malt spirit and is
cleaner, drier and lighter.

Schiedam in South Holland, was famous for its jenever and this is where De
Kuyper is based.

Jenever has always played an important role in De Kuyper's history especially as
it was the company's sole product for many centuries.

De Kuyper Jenever is a blend of malt spirit, with juniper berries and other herbs.
No ageing has taken place other than a marriage period of several weeks in the
blending vats. De Kuyper Jenever combines the best characteristics of both Jonge
and Oude Jenever.


This dram has a white-like color.

Nose (83): average. floral, juniper, parfum.

Palate (86): oily. malt, juniper, wood, a little sweet.

Finish (82): average. floral, malt.

So based on other whiskies I have already tasted I rate this Oude De Kuyper with 84 points over 100.