"First Abhainn Dearg single malt. Promising whisky in a few years but right now is very immature "
78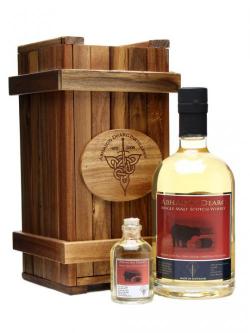 A little piece of whisky history here - the first legal single malt whisky made at the Abhainn Dearg (Red River) distillery in Uig on the Outer Hebridean Isle of Lewis.

Established in 2008, Abhainn Dearg is the most westerly distillery in Scotland.

And they have just released their single malt at a incredible retail price of £150. Looks like they are targeting their single malt to collectors instead of drinkers.

It isn't a bad whisky but it has still a long way to mature in the cask until it is a good one.


This dram has a white wine-like color.

Nose (75): more than average. floral, fruits. Very newmake even after 3 years.

Palate (79): dry, powerful. many floral, honey, spices, pepper. Slightly sharp. Maybe a few years more on the cask?

Finish (79): longer than average. floral, licorice, spices.

So based on other whiskies I have already tasted I rate this Abhainn Dearg 2008 / First Bottling Island Single Malt Scotch Whisky with 78 points over 100.
Buy this bottle at
Save money when you buy Single Malt Whisky online. Check for the best prices from best online shops below: