"This Dalwhinnie is Nutella whisky. It tastes of nuts and halzenuts. Very good dram"
91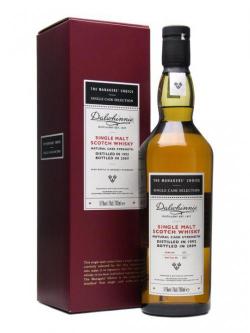 Bottled for Diageo's Manager's Choice series, this single cask Dalwhinnie 1992 is a deliciously biscuity dram, with crisp malty notes and hints of cinnamon and lemon curd. A class act.

A marvelous cask strength highlands whisky but Diageo clearly missed the goal when the marketing deparment set the price for the Managers' Choice range.

Awfully expensive.


This dram has a gold-like color.

Nose (90): average. toffee, citrus, spices, baked apples, cinnamon, fruits, nuts.

Palate (92): . honey, nuts, vanilla, spices, wood, floral.

Finish (90): longer than average. honey, floral, spices.

So based on other whiskies I have already tasted I rate this Dalwhinnie 1992 Managers' Choice Highland Single Malt Scotch Whisky with 91 points over 100.